Bronchomel is a product of bees that is very useful for maintaing the lungs and chest. BronchoMel was featured in Natural Health - "BronchoMel will help sooth away a tight chest, help aid those persistant coughs and treat other respiratory problems.
Now Only
£17.99
Regular Price
£25.00
Buy 4 for

£17.00

each and save

6

%
Buy 6 for

£16.50

each and save

8

%
Bronchomel is a product of bees that is very useful for maintaing healthy the lungs and chest.
Broncho Mel is a unique beehive product from Israel and part of the LifeMel range of food supplements, which are naturally made by bees fed on a specially prepared mixture of nature's herbs.
Bronchomel is Believed to balance the body. Has properties to help support healthy lungs and breathing year-round. Also helps to maintain healthy bronchioles, which are the narrowest airways of the lungs.
This is understood to be as a result of the unique process which goes on within the bees once they have assimilated the specially prepared diet.
The LifeMel range is manufactured through a special process which includes feeding bees special mixtures of herbs which are specific to each of the products. Tested in the laboratory for its efficiency.

Main plants used in the production of BronchoMel: Salvia Officinalis, Laurus Nobilis, Sambucus Nigra, Eucalyptus Globulus, Plantago Major, Matricaria recutita, Rosmarinus Officinalis.

BronchoMel is not artificially treated in any way and no ingredients are added after extraction from the hive. BronchoMel has a pleasant aroma and flavour.

Recommended Intake:
Two 5gr spoonfuls a day: One in the morning on an empty stomach and one at night. BronchoMel should be sucked slowly.

Cautions:
Do not exceed recommended daily intake.

Warnings:
Pregnant and breastfeeding women should consult their doctor. 
Not to be given to children less than two years old. 
Not recommended for diabetics or people allergic to beehive products. 
Food supplements should not be used as a substitute for a varied, balanced diet and healthy lifestyle.

Please note:
All beehive products will become crystallised and solidify over time especially when cold. This does not affect the qualities of BronchoMel.

Keep out of reach of children.

BronchoMel featured in Natural Health as a beehive product made by "bees fed a specially formulated diet of soothing herbs that have been proven to effectively soothe a tight chest, coughs, colds and flu. The special beehive product they produce intensifies the active properties of these herbs as they are processed in the hive resulting in BronchoMel...one spoon, twice a day and BronchoMel will help soothe away a tight chest, help aid those persistant coughs and treat other respiratory problems."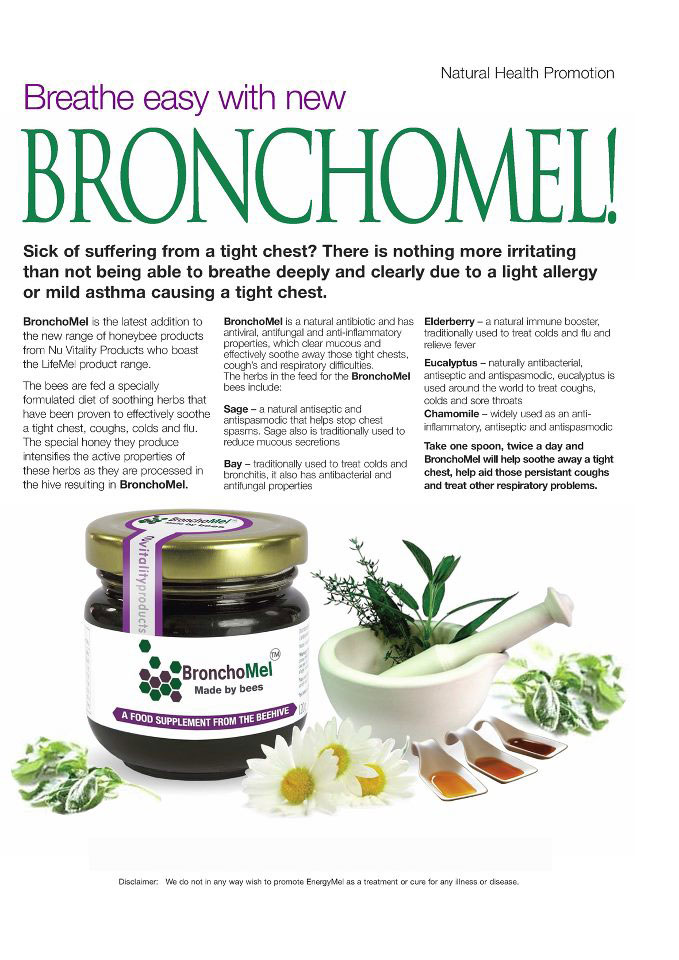 BronchoMel was featured in Grazia magazine as a natural antiviral and antibiotic to help fight winter bugs and sore throats.

BronchoMel is a Winter Hero Product designed to soothe respiratory problems - common colds, chesty coughs, mucus and respiratory difficulties. It can be used as a natural antibiotic to clear up infections, and it is also an effective expectorant; helping to clear mucus and other buildups from the lungs, bronchi and trachea. Like all Life Mel Products it is safe for long term use and 100% natural.
BronchoMel Made by bees processing the following herbs: Sage, Bay, Elderberry, Eucalyptus, Chamomile, Plantain and Rosemary.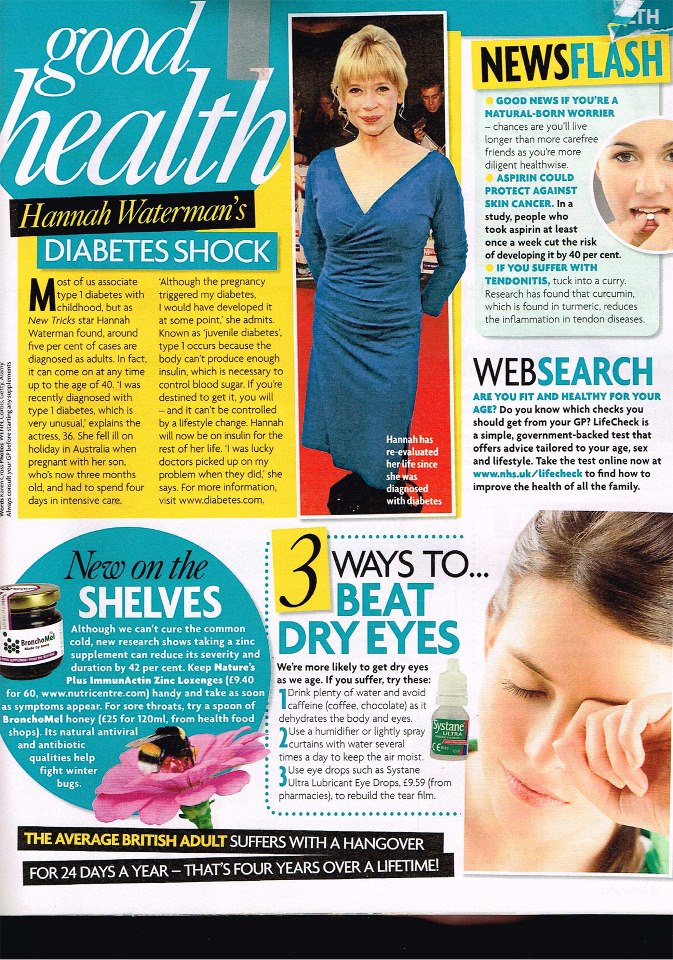 More Information

| | |
| --- | --- |
| SKU | NV006 |
| Brand | Life Mel Range |
| GTIN | 5060256890089 |
Important Information - Please read before purchase :

While Nirvana Health strives to ensure the accuracy of its product images and information, some manufacturing changes to the packaging, labels and/or ingredients may be pending update on our site. For additional information about a product, please contact us on 0203 4174913.

Information on this web site is provided for informational purpose only and is not intended as a substitute for the advice provided by your physician, medical practitioner, pharmacist or other licensed health care professional. You should not use the information stated regarding dietary supplements on this website for diagnosing and treating a health problem or disease, or prescribing any medication or other treatment.

As these are all Natural Health Supplements results can vary from person to person and are not guaranteed.

Keep out of reach of children. Store in a cool, dry place. Do not use if seal under cap is broken or missing.
Customers Also Bought

We found other products you might like!